Techfynder has achieved another unique milestone in the industry
We are delighted to present that Techfynder has achieved another unique milestone in the industry: we were recognized by Business Connect as The Most Reliable HR Tech Platform to Watch in 2021 for our growth and differentiating factors.
Today, Techfynder has become a one-stop solution for all size of businesses in its niche market where clients can avail the direct access to 'Global Talent Pool' of professionals in over 130 countries.
The expertise of the company is fixated on the HR Technology space, however, it has exemplary opportunities in almost every sector, including Accounting and Finance, Engineering, Banking, Insurance, Sales, Marketing, Pharmaceuticals and considerably more. At present, we are operating in 138 markets globally with 4 international workstations.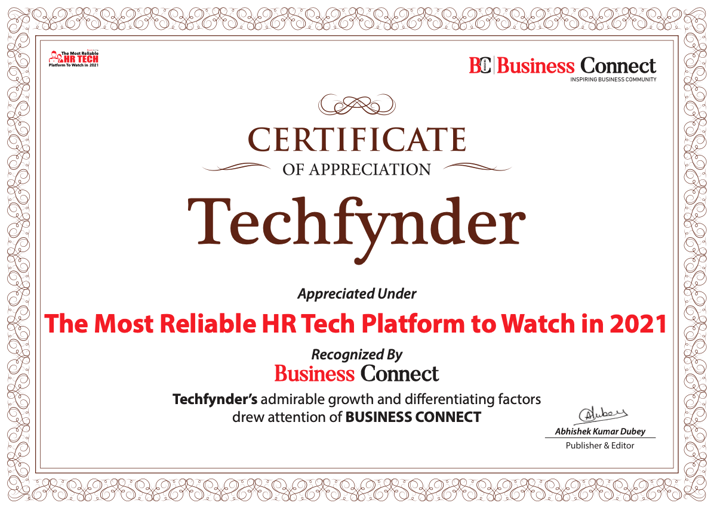 Our Founder & CEO, Praveen Madire, declared "Techfynder is leading the future of work. We need to innovate to be part of a new digital edge. The future belongs to businesses that use technology at the centre of their outlook. This is a revolution, as it impacts society and is becoming today's reality for millions of workers and companies around the world, reflecting the best of the digital and physical worlds. The challenges and opportunities posed by the future of work may seem limitless, and they can present new realities every day. Investing in the digital is fundamentally changing business and forces the future of work."
Techfynder is a unified HR Tech platform that allows companies and agencies to directly connect with professional talent and to carry out every aspect of the recruiting process via a single portal. A very targeted solution to find top talent with specific skills in any location, but with no commissions for employers and free for professional talent to join. Contact us today to learn more about our solution.