Techfynder Building Teams Globally
Techfynder craves business success to become a global leader in the HR Tech industry, providing an economical and quality-driven service for businesses to source professional talent.
We are constantly focusing on innovation, and we genuinely believe in deep collaboration and cross-pollination of a team, which allow us to establish connections and aim a remarkable commitment to service quality - Transcending cultural perspective and learning how business is done in different contexts is essential for us.
Having said that, the company has been building a talented team with depth experience, knowledge and key management skills and we're delighted to say that we're establishing teams across the globe and couldn't be happier to introduce you to our newest additions. We're glad to have Siobhan Kelly, Bárbara Dominguez, Anush Kumar and Ashish Kumar joining the team for our growth and to meet the needs of a modern and unified global platform.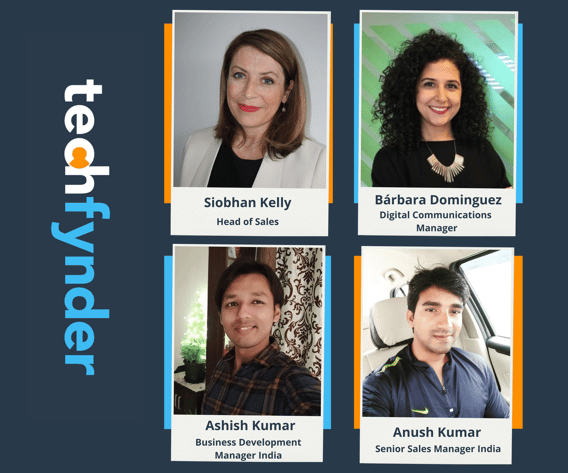 Please feel free to reach out to them if you have any sales queries or click the button below to learn more about our global teams.
Siobhan Kelly siobhan_kelly@techfynder.com
Bárbara Dominguez barbara_dominguez@techfynder.com
Anush Kumar anush_kumar@techfynder.com
Ashish Kumar ashish_kumar@techfynder.com
Tags:
opportunities
,
small businesses
,
tech businesses
,
remote team
,
technology jobs
,
jobs
,
technology industry
,
employment
,
dedicated global recruitment platform
,
IT Skills
,
future workplace
,
techfynder team
,
meet the techfynder team
,
new faces onboard
,
Techfynder research
,
techfynder growth
,
techfynder hiring plans
,
techfynder careers
,
human resources and recruitment
,
sales and marketing
,
Remote Working
,
Remote Learning
,
Contractors
,
Global talent