TECHFYNDER HIRING PLANS
We are delighted to announce that, due to our remarkable growth over the year and demand for contractors rising, Techfynder plans expansion to hire 200 people in Hyderabad, India by end of next year. Currently, we have employed a total of 90 people and further plan to set up office in the US and London.
Started off as a hiring platform for contract workers in the IT sector, our parent company Test Triangle launched TechFynder in October 2019 to provide contract workers for other sectors as well. "We were into hiring temporary contractors for big IT companies like Accenture, TCS, Infosys and others as this segment lacked a dedicated platform for contractors. We started witnessing the same kind of interest for contract workers in other sectors like pharmaceutical, sales and marketing and that is how TechFynder came into being," said Praveen Madire, founder, TechFynder.
We have our development centre in Hyderabad with about 20 people and plan to increase this number to 200 by end of next year. In addition, we also plans to have a headcount of 1,000 people in all its offices combined.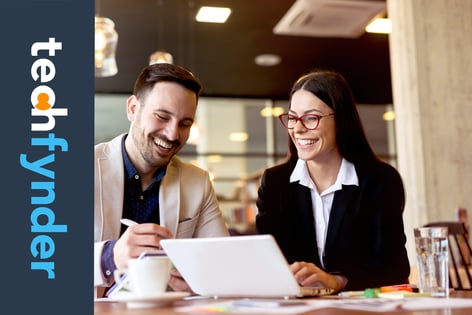 Tags:
contracts
,
job search
,
opportunities
,
find jobs
,
small businesses
,
tech businesses
,
secure a job
,
job blogs
,
tech blogs
,
search engine for jobs
,
what is techfynder
,
tech skills
,
tech recruiters
,
it recruiters
,
the hiring process
,
career
,
job alerts
,
tech jobs
,
technology contractors
,
remote team
,
work
,
find contractors
,
location
,
skills
,
save money
,
save time
,
profile
,
employment landscape 2020
,
techfynder
,
techfynder jobs
,
techfynder contracts
,
techfynder app
,
technology jobs
,
it contracts
,
jobs
,
start up
,
Find IT contractors
,
search
,
job search engine
,
job listings
,
technology industry
,
recruiters
,
search jobs
,
it tech jobs
,
employment
,
find contracts
,
rates
,
contracting opportunities
,
tech jobs 2020
,
perfect tech team
,
techfynder.com
,
techfinder
,
part-time jobs
,
tech part time jobs
,
dedicated global recruitment platform
,
IT freelance contractors
,
tech finder
,
it contractors
,
employment landscape
,
IT Contracting Industry
,
Professional Indemnity Insurance
,
Public liability insurance
,
Employer Liability Insurance
,
IT Contractor Insurance
,
contract employees
,
Expat jobs
,
IT Professionals
,
Expats
,
IT Skills
,
Top IT Skills Covid
,
future workplace
,
tech jobs 2021
,
video interviews
,
hiring tools
,
virtual recruitment
,
how to manage contractors
,
managing contractors
,
Manage Contractors
,
techfynder team
,
meet the techfynder team
,
new faces onboard
,
awards
,
National start-up awards
,
contract jobs trend india
,
techfynder survey
,
contractual trends
,
Techfynder research
,
netherlands contract jobs
,
indian market survey
,
netherlands contractors
,
netherlands IT contractors
,
techfynder times of india
,
techfynder times of india interview
,
techfynder news india
,
techfynder news
,
techfynder growth
,
techfynder growth announcement
,
techfynder hiring plans
,
techfynder careers