TECHFYNDER DEMAND SURGES
Techfynder
, an Irish company that has developed an online recruitment platform for IT contractors, is seeking to raise between €3 million and €5 million following a surge in use by clients during the Covid-19 crisis.
Techfynder said it expects 600 new jobs to be sourced through its platform in the next three months alone.
"We have seen an appetite for our service increase at an unprecedented scale due to Covid-19, especially in Germany, the Netherlands and France as well as Britain and Ireland, " said Techfynder's head of marketing Paul Guy.
He said much of the increased business is a result of companies looking to quickly upgrade their existing IT facilities so that staff can work remotely.
As well as finding contractors for clients, Techfynder is also hiring itself. It announced plans late last year to hire 50 people and recruitment continues in both Dublin and Hyderabad, India, despite the pandemic.
Techfynder's service, which is available via a dedicated website and a mobile app, allows contractors to highlight their skills, experience, daily rates, location and length of contract sought, and match them with suitable companies. The service is free for them to use, and allows them to line up their next job ahead of time without having to scour and post on multiple recruitment platforms.
See full article here:
https://www.irishtimes.com/business/technology/techfynder-seeks-to-raise-up-to-5m-as-demand-surges-during-pandemic-1.4240246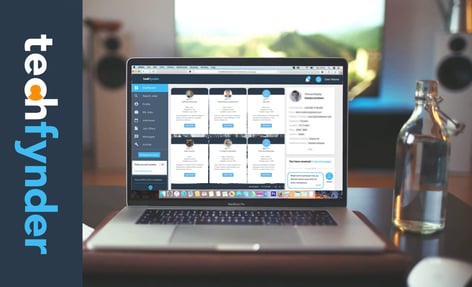 Tags:
contracts
,
job search
,
opportunities
,
find jobs
,
small businesses
,
tech businesses
,
secure a job
,
job blogs
,
tech blogs
,
search engine for jobs
,
what is techfynder
,
tech skills
,
tech recruiters
,
it recruiters
,
the hiring process
,
career
,
job alerts
,
tech jobs
,
technology contractors
,
remote team
,
work
,
find contractors
,
location
,
skills
,
save money
,
save time
,
profile
,
employment landscape 2020
,
techfynder
,
techfynder jobs
,
techfynder contracts
,
techfynder app
,
technology jobs
,
it contracts
,
jobs
,
start up
,
Find IT contractors
,
search
,
job search engine
,
job listings
,
technology industry
,
recruiters
,
search jobs
,
it tech jobs
,
employment
,
find contracts
,
rates
,
contracting opportunities
,
tech jobs 2020
,
perfect tech team
,
techfynder.com
,
techfinder
,
part-time jobs
,
tech part time jobs
,
dedicated global recruitment platform
,
IT freelance contractors
,
tech finder
,
it contractors
,
employment landscape
,
IT Contracting Industry
,
Professional Indemnity Insurance
,
Public liability insurance
,
IT Contractor Insurance
,
contract employees
,
IT Professionals
,
Expats
,
Top IT Skills Covid
,
future workplace
,
tech jobs 2021
,
video interviews
,
hiring tools
,
virtual recruitment
,
how to manage contractors
,
managing contractors
,
Manage Contractors
,
techfynder team
,
new faces onboard
,
awards
,
National start-up awards
,
contract jobs trend india
,
techfynder survey
,
contractual trends
,
netherlands contract jobs
,
indian market survey
,
netherlands contractors
,
netherlands IT contractors
,
techfynder times of india
,
techfynder times of india interview
,
techfynder news india
,
techfynder news
,
techfynder growth
,
techfynder growth announcement
,
techfynder hiring plans
,
techfynder careers
,
techfynder yahoo news
,
south africa contractors
,
south africa contract jobs
,
human resources and recruitment
,
pharmaceutical and medical devices
,
all sectors
,
Banking and Insurance
,
sales and marketing
,
Life Sciences and food
,
Information Technology