INDIAN MARKET SURVEY
Bengaluru and Hyderabad retain their crowns as India's Silicon Valley as both see maximum traction from contractors on the platform, according to our recent survey in Indian market.
Techfynder surveyed 42,000 contractors from across the country between July to September to find out prevalent trends in the contractual marketplace in the country.
The survey revealed that Karnataka leads, with Bengaluru drawing in 29 per cent of the demand for contractual jobs followed by Telangana with Hyderabad and Warangal constituting 24 per cent of the total demand.
The survey further showed that the notion regarding contractual jobs is changing for good in relatively smaller cities as well.
Maharashtra (Mumbai, Pune, and Nagpur), Tamil Nadu (Chennai and Coimbatore) and Delhi (Delhi and New Delhi) contributed 18 per cent, 15 per cent and 14 per cent of the demand on the platform, respectively, it added.
The market survey stated that the top-most job title searches done by the hiring managers when looking for tech contractors, over the past couple of months included software developers, software engineers, front end developers, data analysts, web developer, data scientists, java developer, and full stack developers.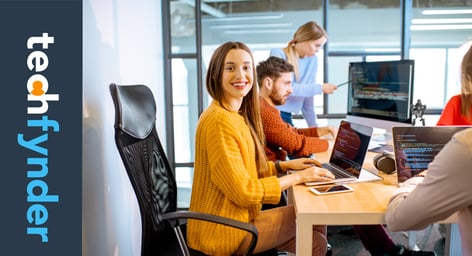 Tags:
contracts
,
job search
,
opportunities
,
find jobs
,
small businesses
,
tech businesses
,
secure a job
,
job blogs
,
tech blogs
,
search engine for jobs
,
what is techfynder
,
tech skills
,
tech recruiters
,
it recruiters
,
the hiring process
,
career
,
job alerts
,
tech jobs
,
technology contractors
,
remote team
,
work
,
find contractors
,
location
,
skills
,
save money
,
save time
,
profile
,
employment landscape 2020
,
techfynder
,
techfynder jobs
,
techfynder contracts
,
techfynder app
,
technology jobs
,
it contracts
,
jobs
,
start up
,
Find IT contractors
,
search
,
job search engine
,
job listings
,
technology industry
,
recruiters
,
search jobs
,
it tech jobs
,
employment
,
find contracts
,
rates
,
contracting opportunities
,
tech jobs 2020
,
perfect tech team
,
techfynder.com
,
techfinder
,
part-time jobs
,
tech part time jobs
,
dedicated global recruitment platform
,
IT freelance contractors
,
tech finder
,
it contractors
,
employment landscape
,
IT Contracting Industry
,
Professional Indemnity Insurance
,
Public liability insurance
,
Employer Liability Insurance
,
IT Contractor Insurance
,
contract employees
,
Expat jobs
,
IT Professionals
,
Expats
,
IT Skills
,
Top IT Skills Covid
,
future workplace
,
tech jobs 2021
,
video interviews
,
hiring tools
,
virtual recruitment
,
how to manage contractors
,
managing contractors
,
Manage Contractors
,
techfynder team
,
meet the techfynder team
,
new faces onboard
,
awards
,
National start-up awards
,
contract jobs trend india
,
techfynder survey
,
contractual trends
,
Techfynder research
,
indian market survey