TECHFYNDER WINS SILVER AT STARTUP AWARDS 2020
We are blown away to have won our first silver award in the Tech Start-Up category of the prestigious National Start-up Awards 2020. An amazing achievement, thanks to all our colleagues and friends at Techfynder.
The National Start-ups Awards is the most prestigious and sought after awards program for early-stage businesses on the Island of Ireland. The awards support, recognise and applaud businesses on every stage of the entrepreneurial journey from inspiration and learning all the way through to start-up, scale-up and becoming champions.
Our CEO Praveen Madire said, "It's an honour to win our first ever silver award in our first year of business. It reflects our mission to innovate at a furious pace and maintain a laser-focus on helping our clients build high performing contracting teams. This recognition is a true testament to Techfynder's vision of leading the future of work. Entering the awards and receiving judges' feedback has been a great opportunity to really look at our business through fresh eyes and we would like to thank National Start-up Awards for giving us this wonderful opportunity and Enterprise Ireland for their continuous support. "

This is fantastic news and a great tribute to the hard work of our talented and committed Techfynder Team. We are delighted to have received this accolade and would like to congratulate all the award participants and winners!! We couldn't be prouder to end 2020 in such a positive way.
If you missed the 2020 National Start-up Awards, all winners could be now be found here.
2021 is going to be great year and if hiring top-quality IT Contractors is on your list get in touch with us.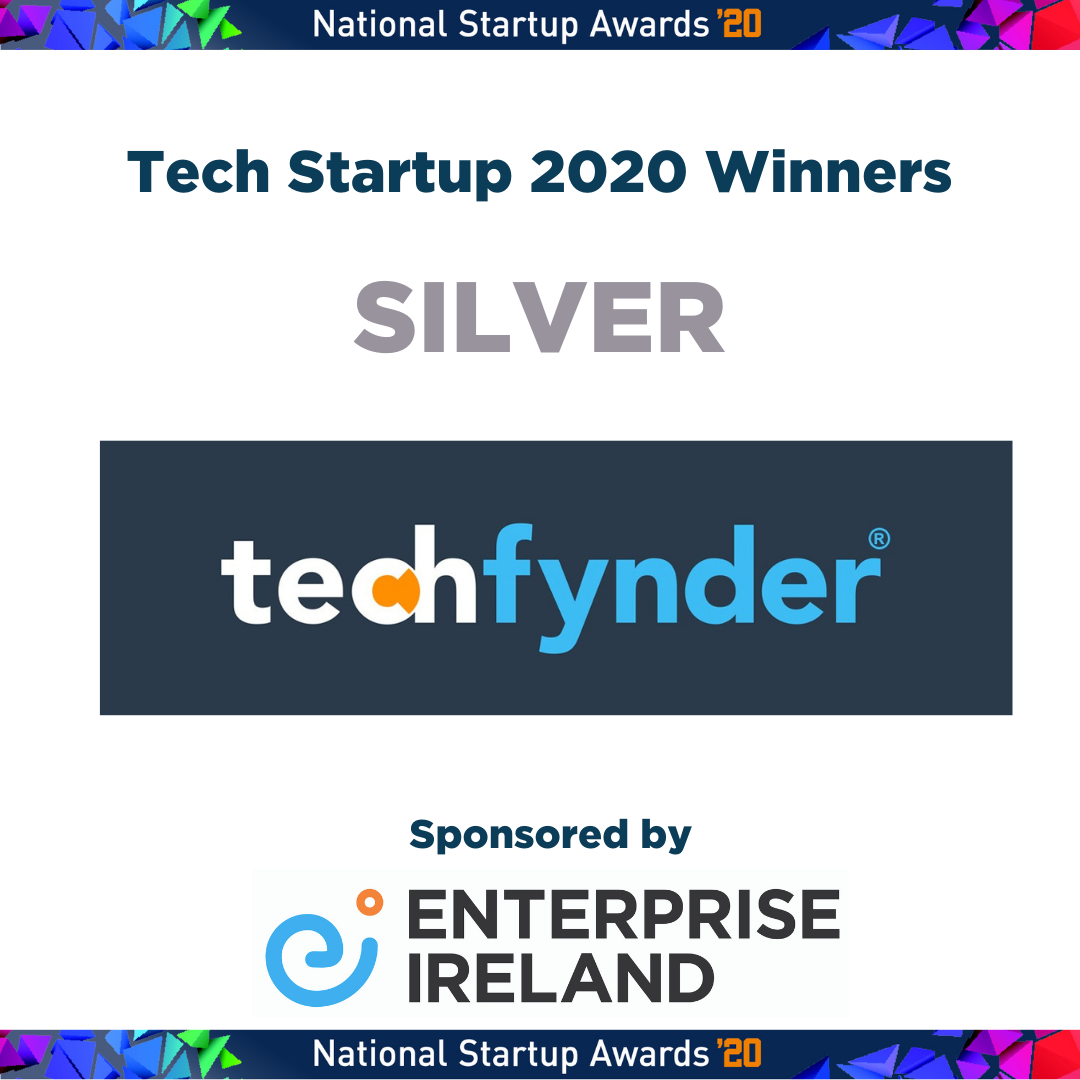 Tags:
contracts
,
job search
,
opportunities
,
find jobs
,
small businesses
,
tech businesses
,
secure a job
,
job blogs
,
tech blogs
,
search engine for jobs
,
what is techfynder
,
tech skills
,
tech recruiters
,
it recruiters
,
the hiring process
,
career
,
job alerts
,
tech jobs
,
technology contractors
,
remote team
,
work
,
find contractors
,
location
,
skills
,
save money
,
save time
,
profile
,
employment landscape 2020
,
techfynder
,
techfynder jobs
,
techfynder contracts
,
techfynder app
,
technology jobs
,
it contracts
,
jobs
,
start up
,
Find IT contractors
,
search
,
job search engine
,
job listings
,
technology industry
,
recruiters
,
search jobs
,
it tech jobs
,
employment
,
find contracts
,
rates
,
contracting opportunities
,
tech jobs 2020
,
perfect tech team
,
techfynder.com
,
techfinder
,
part-time jobs
,
tech part time jobs
,
dedicated global recruitment platform
,
IT freelance contractors
,
tech finder
,
it contractors
,
employment landscape
,
IT Contracting Industry
,
Professional Indemnity Insurance
,
Public liability insurance
,
Employer Liability Insurance
,
IT Contractor Insurance
,
contract employees
,
Expat jobs
,
IT Professionals
,
Expats
,
IT Skills
,
Top IT Skills Covid
,
future workplace
,
tech jobs 2021
,
video interviews
,
hiring tools
,
virtual recruitment
,
how to manage contractors
,
managing contractors
,
Manage Contractors
,
techfynder team
,
meet the techfynder team
,
new faces onboard
,
awards
,
National start-up awards
,
contract jobs trend india
,
techfynder survey
,
contractual trends
,
Techfynder research
,
netherlands contract jobs
,
indian market survey
,
netherlands contractors
,
netherlands IT contractors
,
techfynder times of india
,
techfynder times of india interview
,
techfynder news india
,
techfynder news
,
techfynder growth
,
techfynder growth announcement
,
techfynder hiring plans
,
techfynder careers
,
techfynder yahoo news
,
south africa contractors
,
south africa contract jobs
,
accounting and finance
,
human resources and recruitment
,
pharmaceutical and medical devices
,
all sectors
,
Banking and Insurance
,
sales and marketing
,
Life Sciences and food
,
Information Technology
,
cricket ireland awards
,
Techfynder AI Event
,
AI Event