TECHFYNDER BEYOND COVID-19
If the pandemic has taught us anything it is that businesses need to be able to adapt as quickly and as efficiently as possible due to the economic freeze caused by the Covid-19.
It's been an incredible quarter for Techfynder, we have retained all our clients in Ireland, UK, across Europe and in India and have successfully attained 85 new clients. We have grown our technology contractors to a base of 50,000 outstanding candidates and supplied PPE items to different charities and local companies including Dublin Simon Community and food shelters across Dublin. Currently, we are also in discussions with 5 portfolios who are keen to invest in our business to further expand into global markets.
Today, we're proud to announce that out of 20,000 start-ups in Ireland, Techfynder got listed as one of the 24 companies positioning for a future beyond Covid-19.
Just as important as the right skill set, is having the right core values – these sit at the heart of Techfynder and are essential to our success.We care deeply about our work and are committed to provide unparalleled quality and services to our clients and contractors. We listen to their needs and strive to exceed their expectations.
Read full article here:
https://www.thinkbusiness.ie/articles/irish-startups-succeeding-despite-covid19-24-to-watch-believe/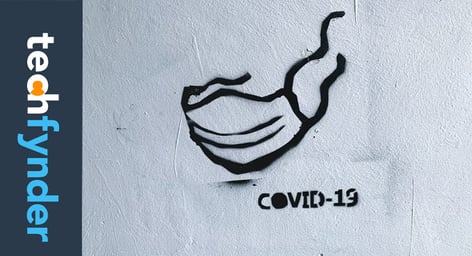 Tags:
contracts
,
job search
,
opportunities
,
find jobs
,
small businesses
,
tech businesses
,
secure a job
,
job blogs
,
tech blogs
,
search engine for jobs
,
what is techfynder
,
tech skills
,
tech recruiters
,
it recruiters
,
the hiring process
,
career
,
job alerts
,
tech jobs
,
technology contractors
,
remote team
,
work
,
find contractors
,
location
,
skills
,
save money
,
save time
,
profile
,
employment landscape 2020
,
techfynder
,
techfynder jobs
,
techfynder contracts
,
techfynder app
,
technology jobs
,
it contracts
,
jobs
,
start up
,
Find IT contractors
,
search
,
job search engine
,
job listings
,
technology industry
,
recruiters
,
search jobs
,
it tech jobs
,
employment
,
find contracts
,
rates
,
contracting opportunities
,
tech jobs 2020
,
perfect tech team
,
techfynder.com
,
techfinder
,
part-time jobs
,
tech part time jobs
,
dedicated global recruitment platform
,
IT freelance contractors
,
tech finder
,
it contractors
,
employment landscape
,
IT Contracting Industry
,
Professional Indemnity Insurance
,
Public liability insurance
,
Employer Liability Insurance
,
IT Contractor Insurance
,
contract employees
,
Expat jobs
,
IT Professionals
,
Expats
,
IT Skills
,
Top IT Skills Covid
,
future workplace
,
tech jobs 2021
,
video interviews
,
hiring tools
,
virtual recruitment
,
how to manage contractors
,
managing contractors
,
Manage Contractors
,
techfynder team
,
meet the techfynder team
,
new faces onboard
,
awards
,
National start-up awards
,
contract jobs trend india
,
techfynder survey
,
contractual trends
,
Techfynder research
,
netherlands contract jobs
,
indian market survey
,
netherlands contractors
,
netherlands IT contractors
,
techfynder times of india
,
techfynder times of india interview
,
techfynder news india
,
techfynder news
,
techfynder growth
,
techfynder growth announcement
,
techfynder hiring plans
,
techfynder careers
,
techfynder yahoo news
,
south africa contractors
,
south africa contract jobs
,
accounting and finance
,
human resources and recruitment
,
pharmaceutical and medical devices
,
all sectors
,
Banking and Insurance
,
sales and marketing
,
Life Sciences and food
,
Information Technology