CRICKET IRELAND AWARDS
One of the most awaited and exciting awards nights in Cricket, the 2020 Turkish Airlines Irish Cricket Awards took place in Dublin on Friday, 28th February. The awards were meant to honour the best in cricket for their exemplary sportsmanship during the year 2019-2020 in over 14 Categories. A large crowd were in attendance to celebrate the achievements of the Irish Cricket Team.
An experienced and knowledgeable judging panel, drawn from the sport communities, determined the winners of 2020 Turkish Airlines Irish Cricket Awards.
In an often-divided world, sports can bring millions of people together, both across and within societies. We're proud to use our name to support Cricket Ireland and support the world's most watched and revered international sport.
Paul Guy, Head of Marketing and Communications, TechFynder presented the TechFynder Club official of the year award to Joe Connolly. This is a wide-ranging award category that recognises the club which aims to recognise, celebrate and promote the inspirational work done by the cricket clubs around Ireland.
Praveen Madire, CEO, Test triangle, presented the Test Triangle Inter provincial player of the year award to Anita Tectar on behalf of her son Harry Tectar. Our parent company decided to sponsor this award to reduce the gap between the domestic and international cricket and promote cricket across the country.
Congratulations to all 2020 Irish Cricket Award Winners and Nominees! You have made us all proud
For more information on the awards please click here:
https://www.cricketireland.ie/about/awards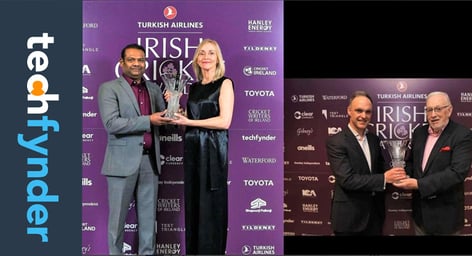 Tags:
contracts
,
job search
,
opportunities
,
find jobs
,
small businesses
,
tech businesses
,
secure a job
,
job blogs
,
tech blogs
,
search engine for jobs
,
what is techfynder
,
tech skills
,
tech recruiters
,
it recruiters
,
the hiring process
,
career
,
job alerts
,
tech jobs
,
technology contractors
,
remote team
,
work
,
find contractors
,
location
,
skills
,
save money
,
save time
,
profile
,
employment landscape 2020
,
techfynder
,
techfynder jobs
,
techfynder contracts
,
techfynder app
,
technology jobs
,
it contracts
,
jobs
,
start up
,
Find IT contractors
,
search
,
job search engine
,
job listings
,
technology industry
,
recruiters
,
search jobs
,
it tech jobs
,
employment
,
find contracts
,
rates
,
contracting opportunities
,
tech jobs 2020
,
perfect tech team
,
techfynder.com
,
techfinder
,
part-time jobs
,
tech part time jobs
,
dedicated global recruitment platform
,
IT freelance contractors
,
tech finder
,
it contractors
,
employment landscape
,
IT Contracting Industry
,
Professional Indemnity Insurance
,
Public liability insurance
,
Employer Liability Insurance
,
IT Contractor Insurance
,
contract employees
,
Expat jobs
,
IT Professionals
,
Expats
,
IT Skills
,
Top IT Skills Covid
,
future workplace
,
tech jobs 2021
,
video interviews
,
hiring tools
,
virtual recruitment
,
how to manage contractors
,
managing contractors
,
Manage Contractors
,
techfynder team
,
meet the techfynder team
,
new faces onboard
,
awards
,
National start-up awards
,
contract jobs trend india
,
techfynder survey
,
contractual trends
,
Techfynder research
,
netherlands contract jobs
,
indian market survey
,
netherlands contractors
,
netherlands IT contractors
,
techfynder times of india
,
techfynder times of india interview
,
techfynder news india
,
techfynder news
,
techfynder growth
,
techfynder growth announcement
,
techfynder hiring plans
,
techfynder careers
,
techfynder yahoo news
,
south africa contractors
,
south africa contract jobs
,
accounting and finance
,
human resources and recruitment
,
pharmaceutical and medical devices
,
all sectors
,
Banking and Insurance
,
sales and marketing
,
Life Sciences and food
,
Information Technology
,
cricket ireland awards