HOW AI HAS SHIFTED THE TECH INDUSTRY!
We were delighted to host a very interesting and inspiring event on Thursday, February 27th in an exceptional venue called Dogpatch labs, Dublin. The purpose to highlight this theme for discussion was because AI is one of the trending hot topics in recruitment land, it is all set to dominate the HR recruitment industry for companies in the coming years. The discussion at our event covered many significant points on AI, to keep the companies updated on this revolutionary change.
In the IT industry, there is less demand for generalised support skills and more demand for specialisations. These can be a number of different things including SQL, Python, and even cybersecurity - but it can be difficult finding these specific skillsets during a recruitment drive. This is why IT contracting has boomed, as there are hundreds of thousands of individuals out there who each specialise in different fields related to information technology. As an IT contractor, you may work directly with a client, or you may find work through specialist recruitment platforms - such as Techfynder.
The primary goal of this event was to bring together the leaders in AI and companies under one roof to discuss the ongoing shift in the HR Industry caused by AI. The event brought together a strong line-up of speakers, industry specialists, AI thought leaders, and TechFynder experts to share compelling and informative insights. Line-up of fabulous experts included Michael Dineen (Contracting Plus), Niamh Donnelly (Akara AI Expert), Gavin Fox (Director Korn Ferry Technology / Dublin Tech Talks founder) and Praveen Madire (CEO Techfynder). The well-known journalist Emmet Ryan from Business Post took the lead on the discussion.
As AI is has become a trending tech topic, the discussion was mainly focused on data protection concerns related to AI in recruitment, AI powered recruitment software, Algorithms used to build AI in recruitment as well as how tech and high growth companies can bring A.I. to the forefront to positively impact the future of Human Resource and Recruiting. The event also comprised a short presentation by Praveen Madire, CEO of TechFynder wherein he gave a brief overview of why global organisations are shifting their spending from singular HR tools to data-driven, intelligent talent experience platforms.
More than 80 companies from UK and Ireland attended the event. Beyond Key speakers and companies, all opportunities within the Tech Talent industry were discussed.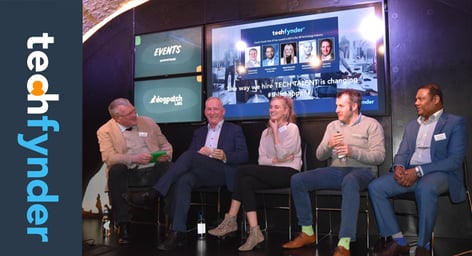 Here are some of our favourite quotes from the evening:
"AI will make our lives easier and should be embraced, it can do all those little jobs we hate doing, and allow us to concentrate on higher level, more interesting work. It's a Win/Win for all!"- Michael Dineen, Chairman, Contracting plus
"Optimising you're TA function with AI will allow your people to have better conversations with candidates. With candidate experience being a priority AI should allow you build up a better human relationship. AI should be a part of a TA solution not the solution itself." Gavin Fox, Director, Kon Ferry Technology
However, our platform removes these struggles and worries, as it is a dedicated entity which connects contractors to thousands of companies across the globe. Every business has different specifications they are looking to meet, but our platform matches and provides access to in-demand contractors who are open to hearing new opportunities. The technology allows contractors to create their own profile, highlighting their location, skill, rate and experience. Through our secure platform, companies are then able to choose the right contractor to contract - without having to deal with the challenges involved in the recruitment industry.
This event was a great success and there was a lot of positive feedback from the attendees.
If you would like to know more about Techfynder and our disruptive growth in the HR Tech industry, please contact us: marketing@techfynder.com
Tags:
contracts
,
job search
,
opportunities
,
find jobs
,
small businesses
,
tech businesses
,
secure a job
,
job blogs
,
tech blogs
,
search engine for jobs
,
what is techfynder
,
tech skills
,
tech recruiters
,
it recruiters
,
the hiring process
,
career
,
job alerts
,
tech jobs
,
technology contractors
,
remote team
,
work
,
find contractors
,
location
,
skills
,
save money
,
save time
,
profile
,
employment landscape 2020
,
techfynder
,
techfynder jobs
,
techfynder contracts
,
techfynder app
,
technology jobs
,
it contracts
,
jobs
,
start up
,
Find IT contractors
,
search
,
job search engine
,
job listings
,
technology industry
,
recruiters
,
search jobs
,
it tech jobs
,
employment
,
find contracts
,
rates
,
contracting opportunities
,
tech jobs 2020
,
perfect tech team
,
techfynder.com
,
techfinder
,
part-time jobs
,
tech part time jobs
,
dedicated global recruitment platform
,
IT freelance contractors
,
tech finder
,
it contractors
,
employment landscape
,
IT Contracting Industry
,
Professional Indemnity Insurance
,
Public liability insurance
,
Employer Liability Insurance
,
IT Contractor Insurance
,
contract employees
,
Expat jobs
,
IT Professionals
,
Expats
,
IT Skills
,
Top IT Skills Covid
,
future workplace
,
tech jobs 2021
,
video interviews
,
hiring tools
,
virtual recruitment
,
how to manage contractors
,
managing contractors
,
Manage Contractors
,
techfynder team
,
meet the techfynder team
,
new faces onboard
,
awards
,
National start-up awards
,
contract jobs trend india
,
techfynder survey
,
contractual trends
,
Techfynder research
,
netherlands contract jobs
,
indian market survey
,
netherlands contractors
,
netherlands IT contractors
,
techfynder times of india
,
techfynder times of india interview
,
techfynder news india
,
techfynder news
,
techfynder growth
,
techfynder growth announcement
,
techfynder hiring plans
,
techfynder careers
,
techfynder yahoo news
,
south africa contractors
,
south africa contract jobs
,
accounting and finance
,
human resources and recruitment
,
pharmaceutical and medical devices
,
all sectors
,
Banking and Insurance
,
sales and marketing
,
Life Sciences and food
,
Information Technology
,
cricket ireland awards
,
Techfynder AI Event
,
AI Event