PPE DONATIONS: FIGHT COVID 19
Techfynder has been praised for its generous donation of PPE to some of the most at-risk people in the community. We understand that PPE can be difficult to source for key workers and volunteers in our community.
Online IT recruitment platform Techfynder have donated up to 2,000 protective face shields to the homeless, front-line workers and emergency service personnel in order to help protect themselves during the Covid-19 pandemic. The reusable shields feature curved plastic that covers the forehead, eyes, nose, and mouth and are typically used by medical workers.
The company hosted a city-wide donation drive in Dublin, where they visited homeless shelters, shops, medical centres, and Garda stations, including the Dublin Simon Community and members of the Sikh Community.
The Blanchardstown start-up had reached out to Minister for Health Simon Harris and Taoiseach Leo Varadkar earlier this month announcing they had 2,000 coronavirus face-shields which they wished to donate, and since then Techfynder staff have been pictured delivering the much-needed equipment across the city.
"We are grateful for the remarkable work you carry out day-in, day-out to protect the health of individuals and communities across the region," a spokesperson wrote on Twitter.
Techfynder have now joined the ranks of companies who will be remembered for helping out whichever way they could when the community needed it most.
Read full article here:
https://www.irishpost.com/news/irish-company-donates-hundreds-of-protective-face-shields-to-homeless-charity-185772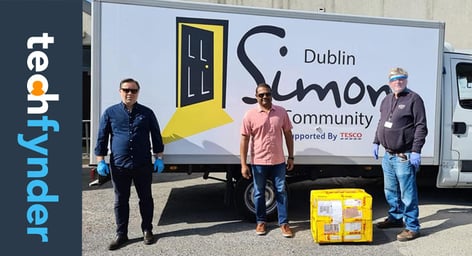 Tags:
contracts
,
job search
,
opportunities
,
find jobs
,
small businesses
,
tech businesses
,
secure a job
,
job blogs
,
tech blogs
,
search engine for jobs
,
what is techfynder
,
tech skills
,
tech recruiters
,
it recruiters
,
the hiring process
,
career
,
job alerts
,
tech jobs
,
technology contractors
,
remote team
,
work
,
find contractors
,
location
,
skills
,
save money
,
save time
,
profile
,
employment landscape 2020
,
techfynder
,
techfynder jobs
,
techfynder contracts
,
techfynder app
,
technology jobs
,
it contracts
,
jobs
,
start up
,
Find IT contractors
,
search
,
job search engine
,
job listings
,
technology industry
,
recruiters
,
search jobs
,
it tech jobs
,
employment
,
find contracts
,
rates
,
contracting opportunities
,
tech jobs 2020
,
perfect tech team
,
techfynder.com
,
techfinder
,
part-time jobs
,
tech part time jobs
,
dedicated global recruitment platform
,
IT freelance contractors
,
tech finder
,
it contractors
,
employment landscape
,
IT Contracting Industry
,
Professional Indemnity Insurance
,
Public liability insurance
,
Employer Liability Insurance
,
IT Contractor Insurance
,
contract employees
,
Expat jobs
,
IT Professionals
,
Expats
,
IT Skills
,
Top IT Skills Covid
,
future workplace
,
tech jobs 2021
,
video interviews
,
hiring tools
,
virtual recruitment
,
how to manage contractors
,
managing contractors
,
Manage Contractors
,
techfynder team
,
meet the techfynder team
,
new faces onboard
,
awards
,
National start-up awards
,
contract jobs trend india
,
techfynder survey
,
contractual trends
,
Techfynder research
,
netherlands contract jobs
,
indian market survey
,
netherlands contractors
,
netherlands IT contractors
,
techfynder times of india
,
techfynder times of india interview
,
techfynder news india
,
techfynder news
,
techfynder growth
,
techfynder growth announcement
,
techfynder hiring plans
,
techfynder careers
,
techfynder yahoo news
,
south africa contractors
,
south africa contract jobs
,
accounting and finance
,
human resources and recruitment
,
pharmaceutical and medical devices
,
all sectors
,
Banking and Insurance
,
sales and marketing
,
Life Sciences and food
,
Information Technology